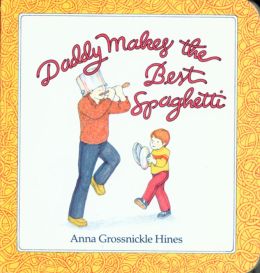 Book 89.
No shortage of sensationalism here.
A kid pours out the love for his dad, who cuts no corners when it comes to showing affection, playfulness and love. I'm not exactly sure how a child would take this, but outside of asking,
How does your own dad compare?
, this book's purpose is a little muddled.
...but there is a bare bottom, so lots of kids will flock to that.
I wonder if this was published during a particularly strong rebellion against
the deadbeat dad
? It's certainly got a strong emphasis on the family unit.
Two kisses.
- Matthew