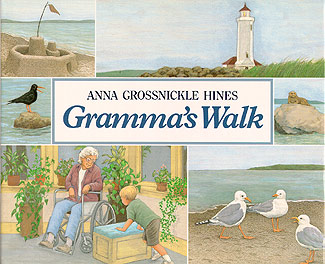 Book 90.
If there's one thing the H section has never failed to deliver, it's books with prominent senior characters. And each one I come across offers something unique and special.
In
Gramma's Walk
, Donnie visits his Gramma for their walk. Gramma is in a wheelchair and it's immediately clear that these walks hold very special meaning to Donnie and Gramma. Gramma and Donnie proceed to take an imaginary journey to the beach, describing all they come across along their walk. The play on the senses is incredible and translates well to the reader, too.
What a very cool experience this would be to bring into the classroom daily or weekly.
By the story's conclusion I noticed my senses were heightened and I actually felt calmer.
The magic of picture books. Love it.
- Matthew