Welcome to the 2012 Shelf Challenge, an opportunity to explore what's
really
on your bookshelves and hopefully come out with a couple of treasures along the way.
Joining up is easy! Just follow these steps:
Select a section of your library collection to read throughout the month of April.

Make it manageable and appealing. (No sense turning what could be a fun experience into more work.)

Try to read every book in that section over the course of the month.

For everybody books, read them cover to cover.
For fiction and nonfiction, read the dust jackets or back cover descriptions.

Share selected gems (and cringes) through a favorite social media outlet such as Shelfari, GoodReads, or through your blog or Twitter feed.
Complete this GoogleDoc so that I can keep track of participants and cheer you on throughout School Library Month!
Happy Reading!
- Matthew
PS: Grab the code below and post this blog button to your website or blog to link up with the 2012 Shelf Challenge!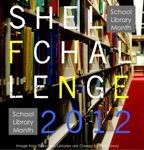 <a href="http://slmshelfchallenge.blogspot.com" target="_blank"><img src="http://i1068.photobucket.com/albums/u460/mwinne2/ShelfChallenge.jpg" alt="School Library Month Shelf Challenge" width="125" height="125" /></a>